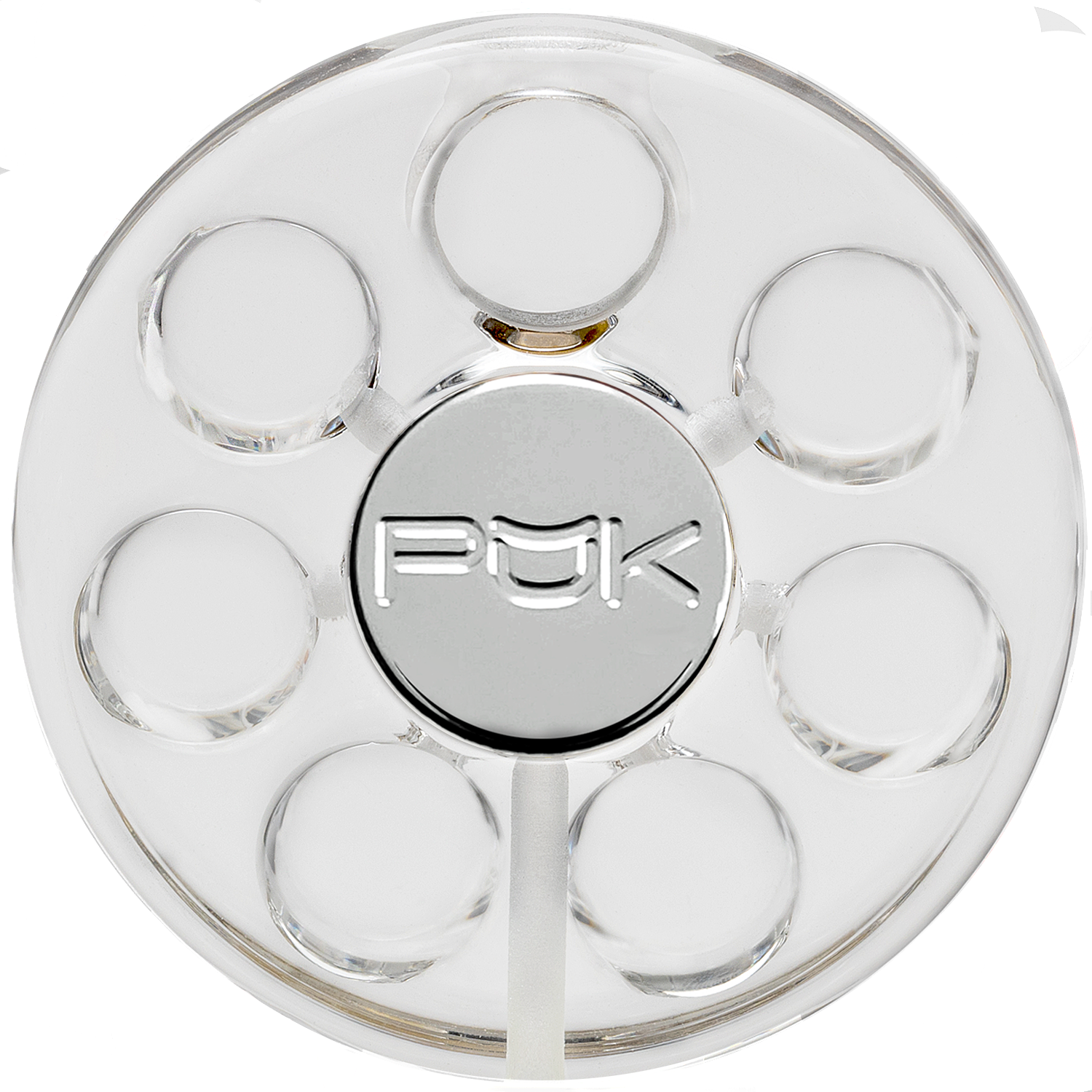 Meet
PŬK
PŬK is the ultimate portable smoking device. It is a high capacity, ultra-compact, air-tight, multi-product, cannabis container, and smoking device in one. And in case you are wondering, it's pronounced "Puck", after its "hockey puck" shape. The PŬK is the recipient of multiple international awards and was designed by a former NASA employee and engineered to exacting standards.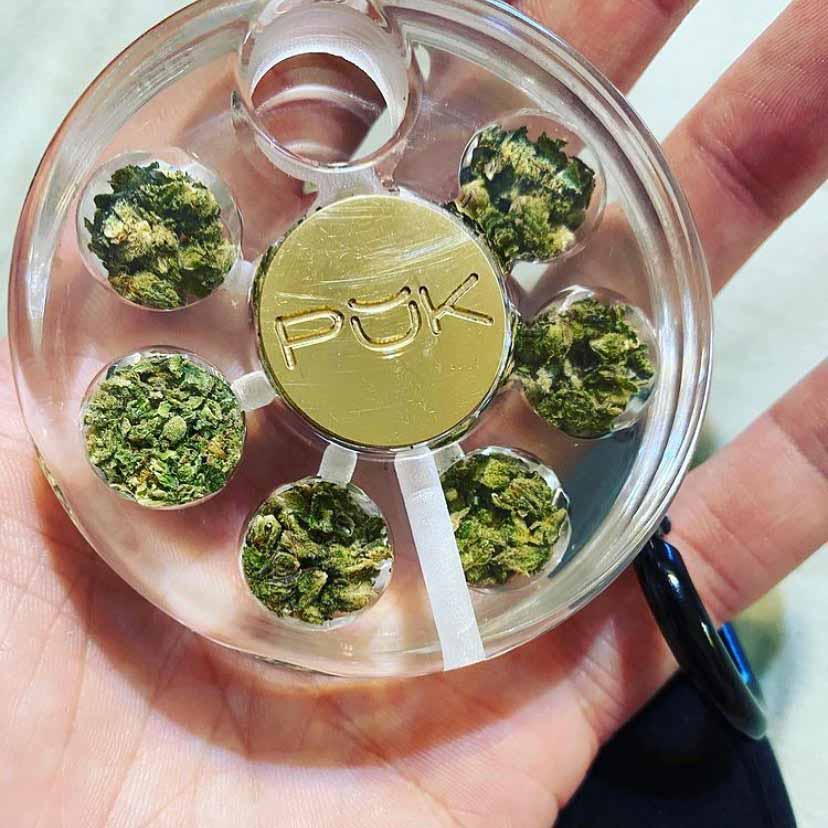 A Completely Unique
High Capacity Device
PŬKs hold nearly ⅛ of an ounce in their 6 full-size bowls, allowing you to customize your experience by filling each bowl with a different strain of cannabis. Having 6 bowls also means that most people will never have to carry a separate container or spend time scraping out the bowls and refilling them multiple times throughout the day. Just load all 6 bowls at once and with the turn of your PŬK, you will have a fresh new bowl ready to enjoy.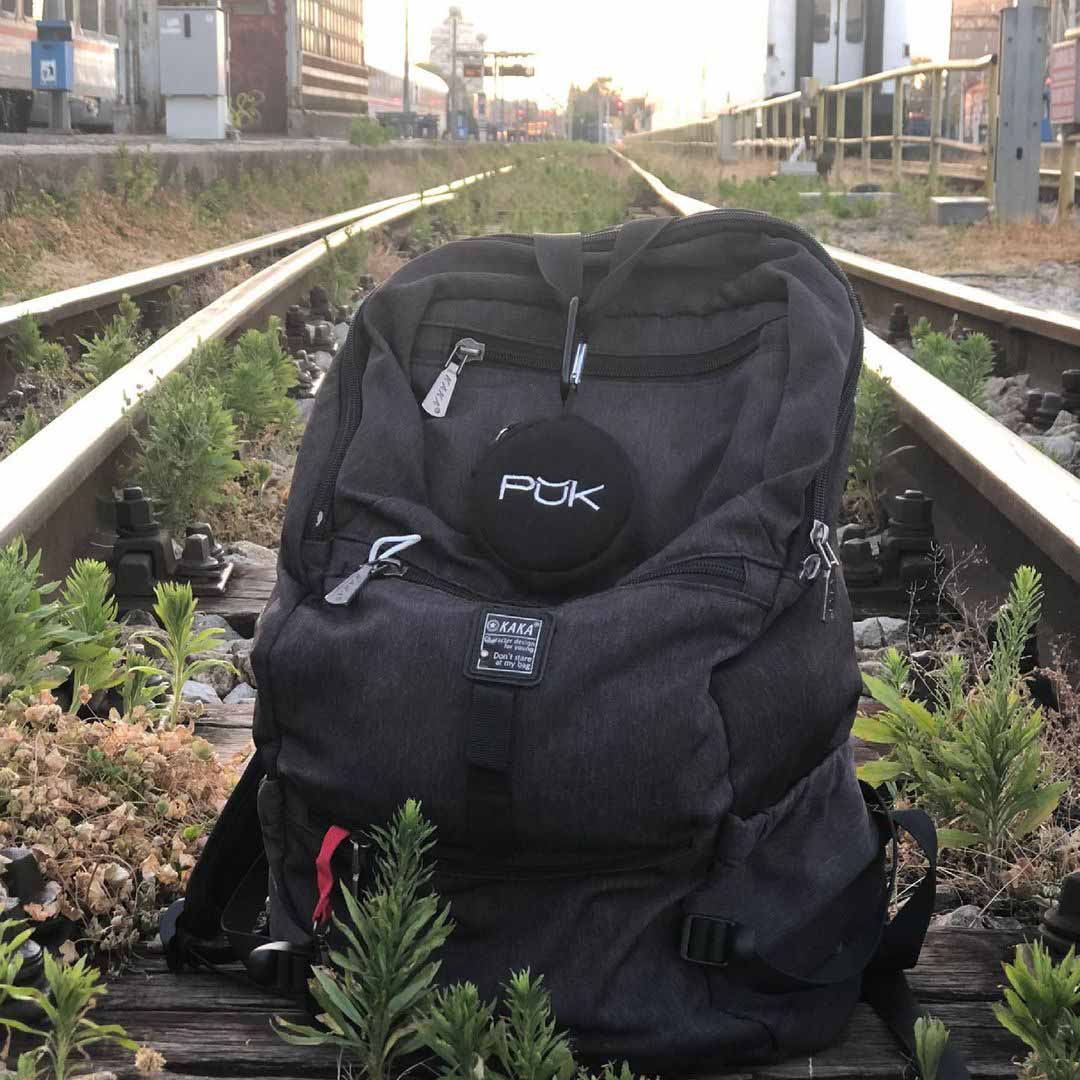 Travel with PŬK
Compact & Discreet
The PŬK's low profile and compact design lets you place it comfortably into any pocket, and its air-tight seal gives you the confidence that no one will smell whatever you are carrying. Perfect when the place or situation requires great discretion!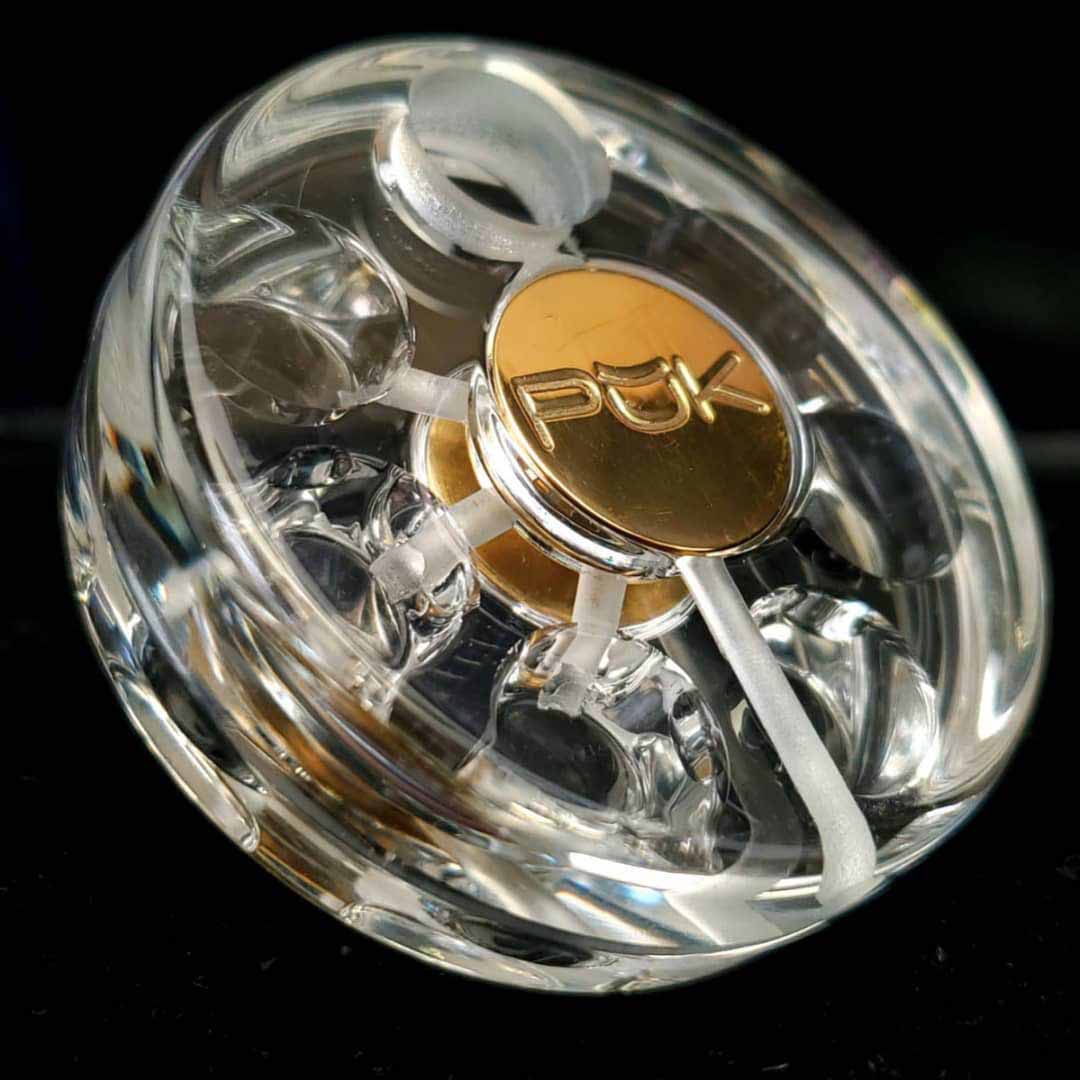 Easily Enjoy
Cannabis Flower or Concentrate
With PŬK, you aren't limited to cannabis flower. Drop a PŬK Magic Stone into one of the bowls and your PŬK transforms into a serious vaporizing device, allowing you to enjoy any of your favorite concentrates. Now that is versatility!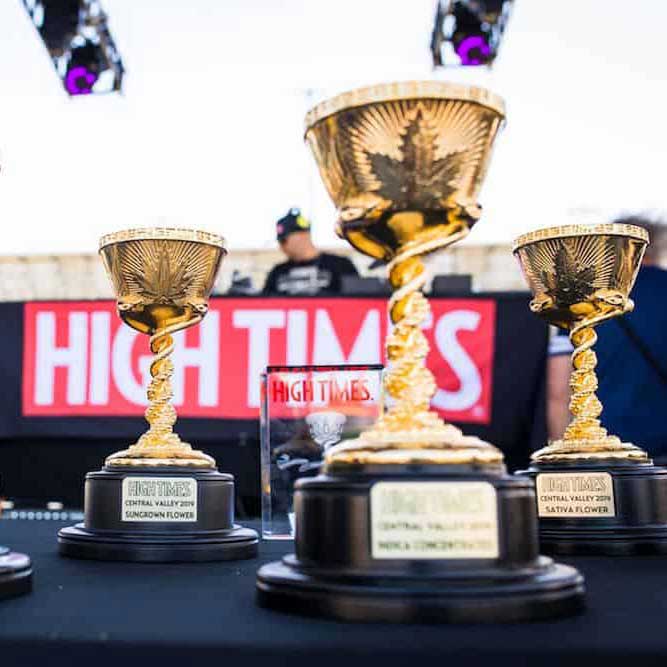 Stunning
Award Winning Design
PŬK is award winning nationally and internationally for its unique design and even won "Best Glass Design" at the 2012 High Times Cannabis Cup in Amsterdam.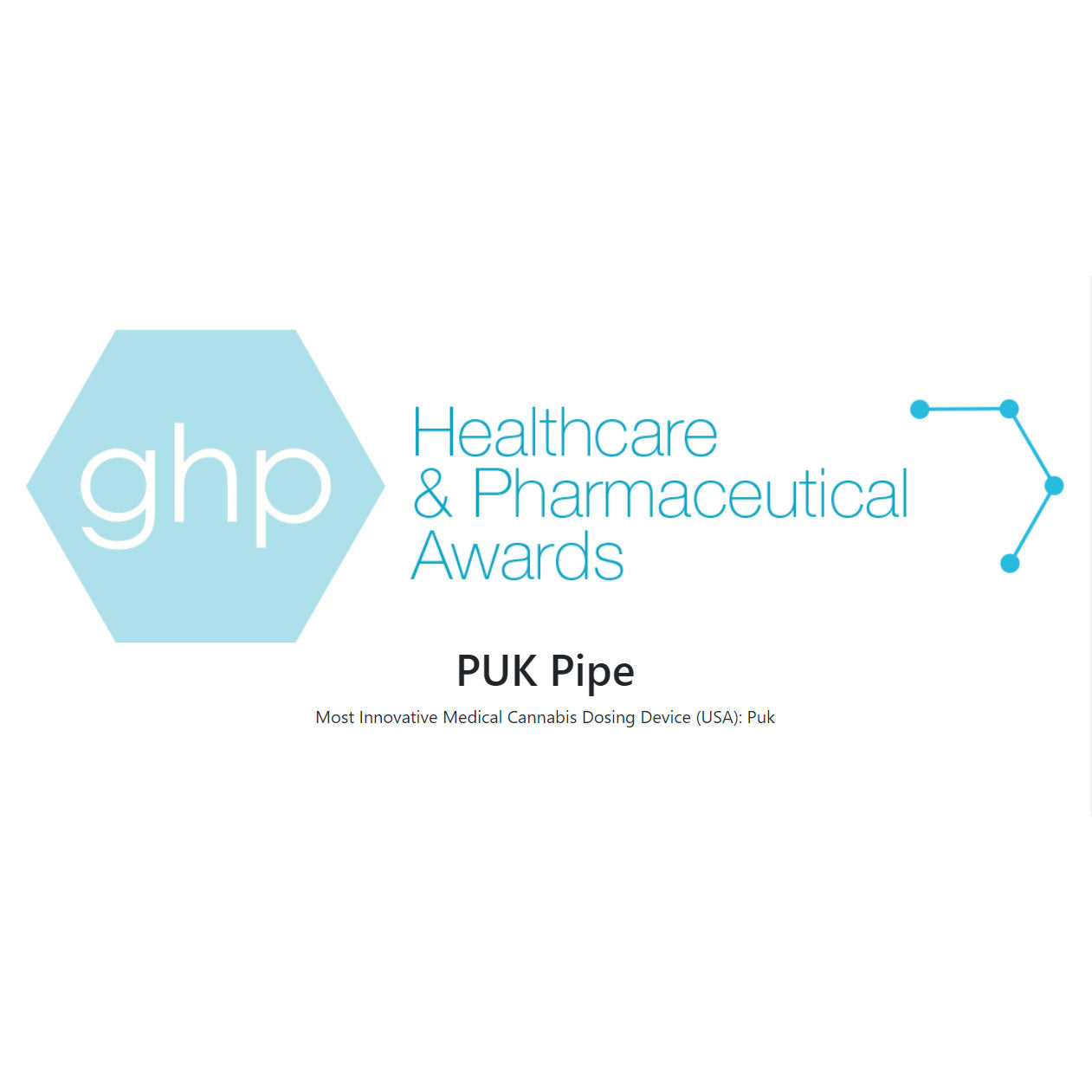 Innovative
Game-Changer
PŬK won the "Most Innovative Medical Cannabis Dosing Device" at the 2020 Global Health and Pharma awards.
FAQ
Read some of the most frequently asked questions about PŬK.
Materials & Manufacturing
1) PŬK Devices are made out of Borosilicate glass (same material as Pyrex; Marble and various types of exotic wood. Brazilian White Pear Wood: This is a hard wood with a high oil content.
2) Food Grade Stainless Steel is utilized for all of the fasteners and the Stabilizer Screen. The circular button on the top and bottom of each PŬK that bears our brand name - or your custom logo is made of either stainless steel or brass, and the color is applied with a proprietary process.
3) PŬK Magic Stone is a non-toxic, porous, ceramic sponge made of Silicon Carbide.
4) PŬK Pods are Neoprene cases (available in black or white) with an aluminum carabiner.
5) All of our packaging is made with recycled products.
Quality
PŬK Devices are made using a combination of: Old-world glass crafting techniques, State of the art CNC machines; and hand finishing, to provide the highest quality products that are engineered to exacting standards. We use the highest quality materials available, including Borosilicate Glass, Food-grade stainless steel, imported stone (marble and granite) and specially curated exotic woods.
Although the glass and marble PŬKs can withstand extreme heat, they can break if dropped on a hard surface.
Environment
We take our responsibility for our commitment to the social and environmental greater good. We care about the people, and communities where our materials originate, as well as the health of our planet. We proudly donate a portion of our profits to organizations that support and promote these values.
Warranty
We know how attached you'll become to your PŬK products, and your total satisfaction is Priority #1. We offer a 90 day, no questions asked, 100% money back guarantee.
Note that all wooden pipes will degrade if not propertly "broken in" and are repeatedly subjected to intense heat without giving them the opportunity to cool between bowls.
Special Requests
Yes. We can customize any of our PŬK Devices with your logo and desired text.
Yes, absolutely! Each PŬK Device ships in a beautiful gift box, and we can ship directly to the lucky person that you are giving it to.